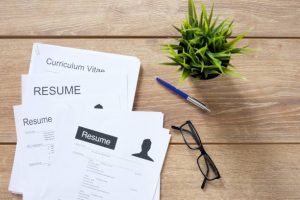 Create a professional email address. 
This is the number one tip because using an unprofessional email address will get you rejected 76% of the time.
Choose a professional email provider like Gmail or Outlook and USE YOUR NAME.
Out of all the resume building tips listed, this may seem too obvious.
Update your contact information.
Make sure your other contact information, not including email, is up to date. This ensures you won't miss any phone calls from outdated phone numbers.
There is no need to include your birth date, marital status, religion, race or gender.
Tip: You can omit your current address if you're applying for an out of state or out of country job.
Set your font size to 10-12 points.
This is important for readability. Keep it between these sizes so that any hiring manager can easily read it without difficulty.
Use reverse-chronological order.
Start from your most recent job and work your way back.
That is, for your experience section, your most recent job should be listed first and so on.
For your education section, your highest degree should go first.
Align your content to the left for better aesthetics.
In addition to readability, it is also important for hiring managers to skim your resume. This is to search for relevant keywords from the job description.
Left aligned text makes their job easier and allows your resume to stand out.
Make strategic use of bold, caps, and italics.
With this, consistency is key. If one of your subheadings is bold, make them all bold.
It is important not to overuse anything. You use these tools to make important information easier to find.
Choose an attractive and readable font.
The right font will do a lot for your resume. Font type can affect whether the resume is viewed as professional or unprofessional.
Choose fonts such as Verdana, Arial, Helvetica, or even Times New Roman rather than fonts you used back in grade school such as Comic Sans and Papyrus.
Quantify your experience.
Whenever you can, use concrete data points.
This emphasizes to the recruiter the scope and context of your work. It demonstrates how you contributed and exactly what you contributed.
For example, if you are talking about increasing profit for a company, include numbers for employers to get a good understanding of your achievement.
Keep it concise.
Your resume should essentially only be one page long. Any longer, and the recruiter may not spare your resume a second glance.
You want all your experiences and other details to be short and concise. Every statement written should have a purpose. If it does not, it would be best to get rid of it.
Listing your skills.
Do not forget to add a section that lists out all the relevant skills you have for a position, including technical skills like HTML, Adobe Photoshop, and other industry related certification.
You could also split this into different sections, such as one for technical, one for languages, and so on.